Hawaiʻi is one of the most diverse states in the nation. The state's main population groups are Native Hawaiians, Japanese, Chinese, Filipinos and Caucasians. Hawaiʻi has a larger percentage of Native Hawaiians, Other Pacific Islanders, and multiracial subgroups than the rest of the country. Non-Caucasian minorities, including large immigrant populations from Asian and Pacific Islander nations, comprise 74% of the population.11 Although Hawaiʻi has consistently placed a high value on providing accessible, top quality health care for all, health disparities between population groups exist.
Numerous social, economic, and environmental factors influence the health of individuals and populations. For example, people with a quality education, stable employment, safe homes and neighborhoods, and access to high-quality, preventive health services tend to be healthier throughout their lives and live longer. Conversely, people with behavioral health disorders, those identifying as a sexual and gender minority including lesbian, gay, bisexual, transgender, queer and/or questioning (LGBTQ), or persons of low socioeconomic status, often face inequitable health outcomes. Where you live directly affects your health in a number of ways, from the accessibility of healthy food, to the availability of green space to be physically active, to access to primary health care.12 In Hawaiʻi, life expectancy ranges by zip code from 73 years to 87 years, a 14 year difference.12
Social Determinants of Health
Social determinants of health are conditions in the places where people live, learn, work, and play that affect a wide range of health and quality-of-life-risks and outcomes.
Inequity is also found across ethnic and non-English speaking communities. The COVID-19 pandemic and climate change are bearing out the disparate vulnerabilities across communities in Hawaiʻi. The HHSP recognizes and prioritizes the importance of addressing health equity and priority population groups that are more likely to experience poor health outcomes.
Advancing Health Equity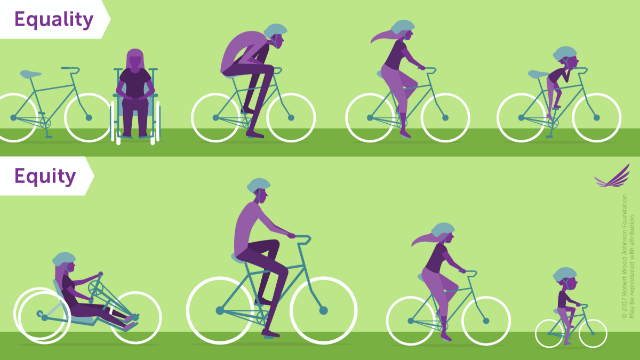 A "one size fits all" approach to expanding opportunities for improved health is like expecting everyone to be able to ride the same bike. Aiming for "Equity," rather than "Equality," provides a more tailored approach to addressing the unique needs of our most vulnerable populations.